Back when it first started, 17% of young pregnant women in the Children of the 90s study reported symptoms severe enough to indicate clinical levels of depression. This figure was already worryingly high in the 1990s, but in their daughters' generation it is even more common: 25% of the second generation of the study – women under the age of 24 who are becoming pregnant now – are reporting signs of depression and anxiety.
Children of the 90s started following the mental and physical health of families in the UK in the 1990s. The young mothers who responded were not reporting that they had depression or were seeking help. Rather, the women answered questions anonymously about how they had been feeling over the previous two weeks. The questions were never changed, so that women responding in the 1990s answered the same questions about their lives as their daughter's generation in the 2010s. This means that many of the women who took part will have had clinical depression or anxiety without actually recognising it as such.
In a study published in The Lancet, colleagues and I suggested too that far too many young women are suffering. And there are also implications for the unborn baby.
How antenatal depression affects babies
We know that depression and anxiety in mothers can have an influence on their child at any point in the child's life. Arguably, however, antenatal depression – which occurs during pregnancy – is the period of greatest risk to the child.
---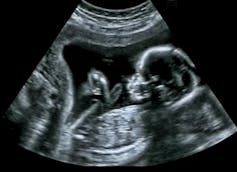 While pregnant, the stress hormones and other physiological consequences of depression and anxiety that circulate in the mother's system are also picked up by the developing foetus, through the placenta and in the womb. This can alter the way a baby's stress system develops.
Depression during and after pregnancy comes at a critical time for the baby. It can make it more difficult for the mother to interact with her baby, especially during times when the infant is distressed. Depressed ways of thinking and behaving may get picked up by the child in an ongoing cycle of learnt behaviour.
Read the rest of the article from The Conversation here.